REPLACEMENT PADS for
SELF-INKING STAMPS
Pads may not look exactly like photo.
Click on below images to enlarge.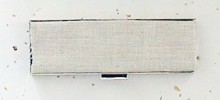 If your self-inking stamp has a removeable stamp pad it can
usually be replaced. There are some brands where no replacement pads
are available. Sometimes we can replace the pad material if there are
no replacement pads available, but the stamp would have to be returned to us.
Replacement pads normally are not interchangeable between brands,
so we need to know which brand stamp you have as well as the size.
To find out what size pad you have, start by removing the pad
from the frame. Be sure to follow the instructions for removing the pad -
if you remove the pad incorrectly you can break the stamp.
There is usually a code on the back of the pad.
We need to know this code to know what pad you have.
If the pad cannot be removed, it cannot be replaced.
How do I place an order?
The best thing to do is to
email
us or call us (201-796-1500).
Include your name and phone number in your email so we can call you.
Special Information:
Some older stamps do not have anything marked
on the back of the pad. If you have one of these stamps, we need to know
the brand name of the stamp and the exact measurement of the stamp pad.
Do not measure the outside of the stamp - We need to know the
dimensions of the pad tray. We might also need to know what
your stamp looks like to figure out which pad you need.
More Special information:
Sometimes the rubber printing plate
on your stamp is broken or distorted. If the imprint of your stamp
looks like there are pieces missing from the letters or the letters
are distorted, replacing the pad will not help.
Even More Special information:
Your stamp might need to be cleaned.
Do that before replacing the pad.
Click here to go the page
for information on cleaning your stamps.
Brand names include
| | | | | | | |
| --- | --- | --- | --- | --- | --- | --- |
| • Colop | | • Comet | | • Kwik Stamp | | • Shiny |
| • Cosco | | • Ideal | | • MaxStamp | | • Trodat |
but not all sizes of stamps of these brands have replacement pads available.
What do they cost?
There are too many pads to list them all.
If your pad isn't on the list below, please contact us.
Trodat Printy 4911
$5.49
Trodat Printy 4912
$6.39
Trodat Printy 4913
$7.39
Trodat Printy 4914
$8.19
Trodat Printy 4918
$7.39
Trodat Printy 4925
$7.59
Trodat Printy 4926
$10.09
Trodat Printy 4931
$10.59
Shipping charges are based on what you
order and where you are located.
We will quote shipping upon request.
There is sales tax if you are located
in New Jersey or New York.
Click here for a YouTube video
on how to re-ink your self-inking stamp
| | |
| --- | --- |
| Copyright 2015-17 AAA Stamp & Seal Mfg. Co., Inc. | |